Kara Walker is the most important artist of Black American Art. The spectacular retrospective at the Kunstmuseum Basel is the first to show a large collection of her drawings and collages – and gets to the heart of the matter.g
It is technically perfect at the highest level. Pretty to look at – but only at first glance. The opening to Kara Walker's exhibition "A Black Hole Is Everything a Star Longs to Be" in Basel is emphatically accessible. Immediately to the right of the entrance, six silhouette collages in landscape format have been placed on the wall as eye-catchers. These works by the 51-year-old black artist Kara Elizabeth Walker – untitled, from the year 2000 – seem to be able to playfully decipher our eyes.
The cute silhouettes in light cones, caves, doorways with little hats, little skirts, little curls are reminiscent of a children's fairy tale book from the Biedermeier period. It seems harmless, playful, when a male tumbles into the hole and a second one struts in front of him with fish teeth in her hands, a black woman in a skirt shimmies from tree to tree.
Even the man reaching under a woman's hoop skirt at the door can just about be reconciled with the conventions of illustration: obviously not entirely inappropriate for young people. However, when we look closely and notice that the man's arm passes through the woman's body and out of her mouth, with an elegant, whip-like bow, he reaches out and touches her heart, the depictions tip over into the disturbing.
There it is, the Walker method: an artful oscillation between cliché and subversion, between idyll and violence that no one can escape.
More than 600 works on paper follow, art that knocks you on the head, disturbing, sensual, unbearable and beautiful. There is, for example, drawn with a sure stroke, a black woman with a turban, naked in a shoulder portrait, pensively picking her nose, "untitled", 2002. A moment of intimacy, of voyeurism, of the banal?
But there are also the many scenes of suffering and violence. A white man sits clamouring on a box: "Success and the Stench of Ingratitude", 2012. He obviously expects a black naked woman to lick his shoes. She vomits instead. A sheet further on, a hanged man, "2008 Scroll". Is it a black man? A white man? We inevitably ask ourselves the question, but it remains undetermined. The cynical comment above it: "True Painters Understand Tradition". Then a copulating couple, a naked black woman standing next to them.
Sketch after sketch, scene after scene. It is a pandemonium of infamy. The violence of racist forms of perception hangs over everything – and the dark aura of a racist reality.

Walker Superstar
Kara Walker has belonged to the circle of the most important female artists on the US scene for almost a quarter of a century now. When she presented her "A Subtlety, or the Marvelous Sugar Baby" to the pampered New York art public in the abandoned Domino Sugar Factory on the Williamsburg Bridge, Brooklyn, in 2014, they could not help but be amazed.
From the darkness of the cleared-out factory hall rose a huge black sphinx made of Styrofoam and sugar. Large, powerful, sublime, the monster stretched its luscious breasts and lips towards the visitors. On her head, instead of a pharaoh's crown, she wore the stereotypical wrap of the buffonesque Black Mama from the Hollywood film of the 1930s. With this fierce staging, Walker had definitely inscribed herself in the Hall of Fame of US contemporary art – and this a few years before the Black Lives Matter movement had also begun to transform the art and museum business in the USA.
Walker was born in 1969 in Stockton, California, and grew up in a sheltered middle-class milieu where origin and skin colour meant little. That changed shockingly when she was 13 years old. She moved with her parents and two siblings to Atlanta, Georgia, from the history-forgotten West Coast to the heartland of US racism, after her father, the black artist Larry Walker, had received a professorship there.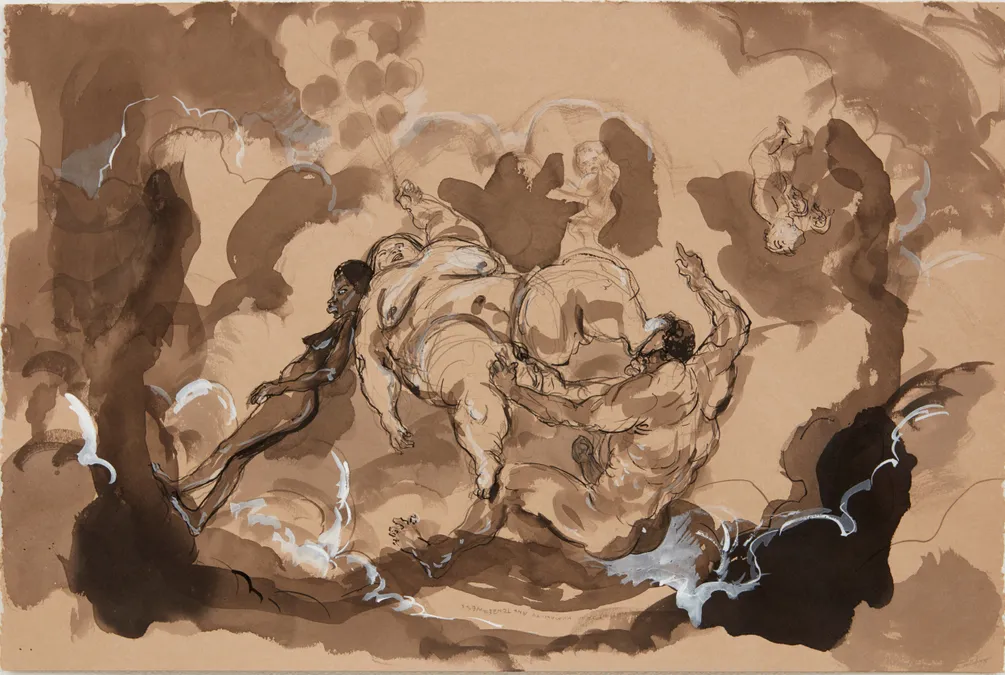 For his 80th birthday, her daughter, who had long since achieved fame and international recognition, organised an exhibition for her little-known father in her New York gallery. She felt the need to "understand contexts around which I have lived and against which I have worked", she commented on the side event to the "New York Times". At first glance, they seem to have little in common. The father produces wild panel collages, the daughter precisely defined figurations. Here the chaotic artist, there the distiller. As a woman and a black artist, it seemed impossible for Kara Walker to follow in her father's footsteps.
Rebellion against the Establishment
Walker had been drawing since she was four years old, and so she developed her own form of expression from drawing early on, which was to become her unmistakable trademark: large-format figurative silhouettes that depict often brutal, frequently sexualised scenes of repression and oppression from US history in an emphatically harmless children's book manner.
Violence of white masters against black slaves, of men against women, but also brutality in the opposite direction. Walker never allows herself to be clearly defined. She would probably never have been so successful if she had used a crystal-clear friend-foe scheme.
She preferred to always be between all fronts.
For some, she is too white, too little of an activist, a traitor to the cause of the Black Movement, as Maurice Berger notes in his catalogue contribution. For the white establishment, on the other hand, she is too black, too denunciatory, too pornographic, too sarcastic. Nevertheless, she has made a career for herself: Her insistence on artistic autonomy and her uncompromising will to express herself have overcome all reservations. Yet she is well aware of the limitations and ambivalences of her work.
With her "subtlety", her "sweetness", is she not serving the neoliberal event machine kept going by white old men that she criticises? People of colour, "non-white" audiences, were underrepresented in Brooklyn. The rear end of the monumental sculpture stretched up to the sky became a selfie background motif that was posted thousands of times.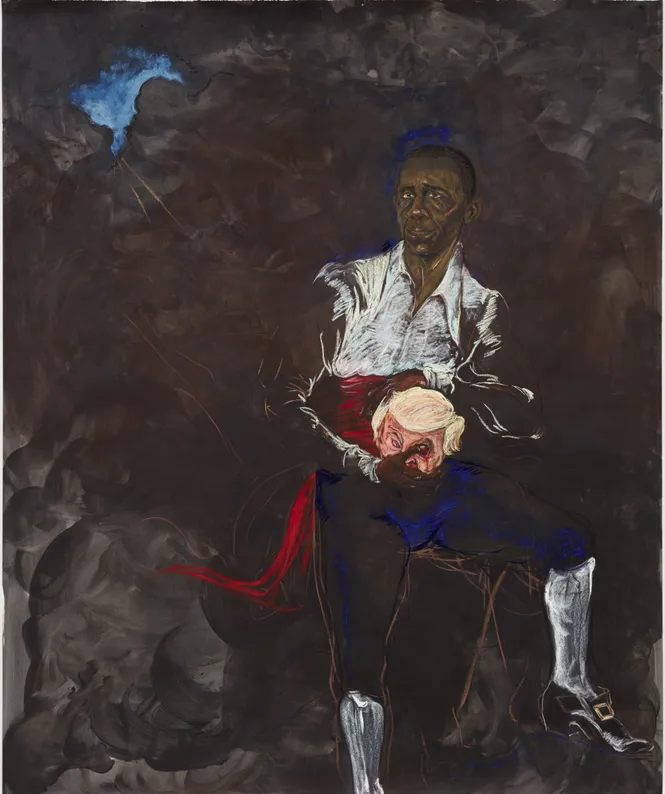 The old question of whether provocative art exorcises negativity or evil, or whether, contrary to its intention, the opposite is achieved, again found plenty of fodder with Walker's intervention. The fact that people are talking about her, that she is successful and recognised like hardly any other artist of her generation, opens up new possibilities and spaces for her.
In 2019, for example, she was given the honour of playing the cathedral of contemporary art, London's Tate Modern. With "Fons Americanus", which means "American Water Spring", she built a bitter, post-colonial satire on the colossal Victoria Memorial at Buckingham Palace into the famous Turbine Hall and managed to foist uncomfortable and disturbing images on the collective memory beyond the mainstream.
Walker disrupts the common representations and narratives of black culture with both her brutal directness and irreverent irony. By subverting expected attributions, she breaks through cheap pathos and calls up something humane that grabs us all by the throat.

The view into the workshop
Walker's mission can only be accomplished with great precision. Her well-known silhouettes require a high level of craftsmanship, especially when it comes to the monumental cycles, panoramas and video animations for which she is known. Basel has two such works from its own collection in the Museum für Gegenwart in St. Alban. They seem so natural and skilful that viewers can easily forget the long path of their discovery and production.
The exhibition at the Basel Kunstmuseum fills a gap here: With the presentation of previously mostly unpublished drawings, some of them in large format, it documents the difficulty and drama of this process of finding. Instead of being overwhelmed, the visitor is invited to immerse herself in the drawings and become involved in the abysses of Walker's pictorial worlds.
In the gesture of representative baroque painting, Walker portrays Barack Obama in four large-format chalk and pastel drawings in 2019. In "Barack Obama as Othello 'The Moor' With the Severed Head of Iago in a New and Revised Ending by Kara E. Walker", the 44th President of the United States barely peels out of the black of the background, while the 45th's severed head, skin colour as a media terrain advantage, shines out of the dark in Othello's lap. Or "Barack Obama as 'An African' With a Fat Pig", where the president sits as a tribal chief with spear and fur overcoat on a hunted sow – a cynical reaction by the artist to the racist vituperations to which the first black president of the USA was subjected.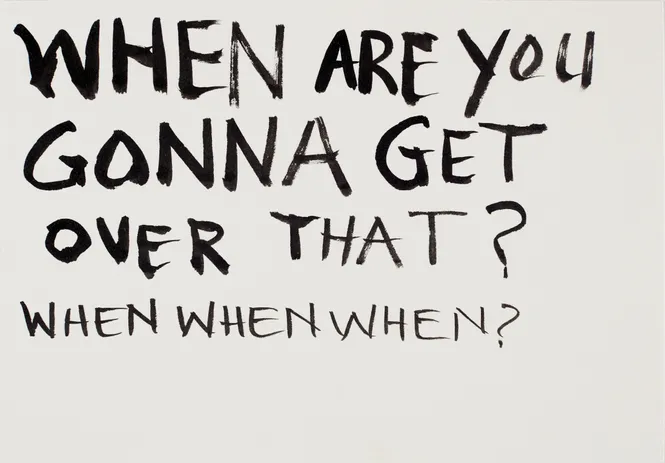 In "I AM NOT MY NEGRO!", the artist 2020 then confronts her viewers in an equally large format in black chalk against a dark cloudy background, from which, difficult to make out, a female demon emerges. The provocative gesture of resistance – and the implicit appeal to the viewers not to let themselves become slaves to their own prejudices – can be read as a subtext and instruction for action for the entire exhibition and Kara Walker's artistic work. In this, she is an enlightened artist through and through in the occidental tradition from Jacques Callot and William Hogarth to Honoré Daumier, Otto Dix and Maria Lassnig to Tomi Ungerer and Robert Crumb.
"Nobody wants to look at art that clearly announces itself as political," Walker admits in an interview. "The caricature, the joke, the fluid form of the silhouette, making things not quite visible, is a kind of ruse to get people's attention." We add: to get them to switch on their brains.
At the adjusting screws of representations
Walker expects a lot from her viewers, especially in the up to 10-metre-long rolls of sketches from past years and decades that are displayed in showcases in Basel. Mostly in ink and graphite, they are followed by diary-like figures, scenes, sentences such as "Paint Will Not Save You", next to which a ghostly inked figurine holds itself, as well as the transformation of the word paint into pain: "Tortures Love to Paint, the Exquisite Pain of it".
Pain, agony, torture abound in Walker's drawings. But like Thomas Hirschhorn's "atrocity pictures", they also call out: Endure! Let the repressed come up. Look at it instead of looking away, otherwise you will face worse, a relapse into barbarism. "Face it!" could be Walker's second slogan to the viewer. Only in this way will something change. That is why the artist presents us with caustic parodies, playful, violent appropriations of the official imagery of exploiters, rapists and murderers.
Walker's work shows one thing clearly: art has nothing to do with depicting, faithfully portraying a framed world. It turns the screws of representations and identities. It insistently points to their cracks and wounds, to what is repressed and mendacious in these constructs. Walker's view and counter-design affects us in our innermost being. No one will leave the exhibition untouched.
---
German Version: